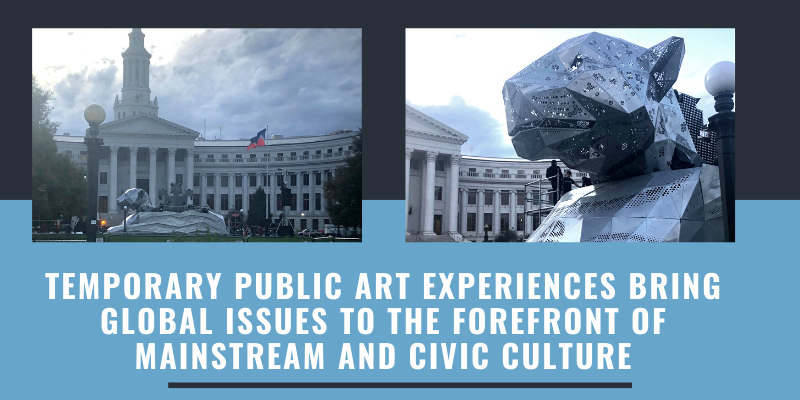 Written by Lori Goldstein and Lani Morris
Recently, members of the CaFÉ and Public Art Archive (PAA) teams visited Jaguara, a temporary public art installation featured as part of the Biennial of the Americas 2019's closing event, "Cósmico Americas." Temporarily installed in front of the Denver City and County Building in Civic Center Park, the "art car," as Jaguara is referred to, was a prominent centerpiece of the event's "Empathy in Action" theme, which focused on "moving beyond divisions to build solutions to the most important issues we face together" (https://www.biennialoftheamericas.org/). Created by a Columbia-based digital design company, Sonic Design Studio, the massive artwork is both a light and sound installation built to project images of the Amazon rainforest on the surrounding architecture. The purpose of this installation is to call attention to the Amazon's deforestation and the consequential disappearance of the jaguar habitat. The artwork also doubles as a concert stage and DJ booth, and, during its installation in Denver, it prompted a Latinx dance party for the final night of the Biennial. Through this multimedia sculptural platform and Jaguara's incredible ability to bring people together, the artists seek to stimulate conversation and translate global issues into human understanding.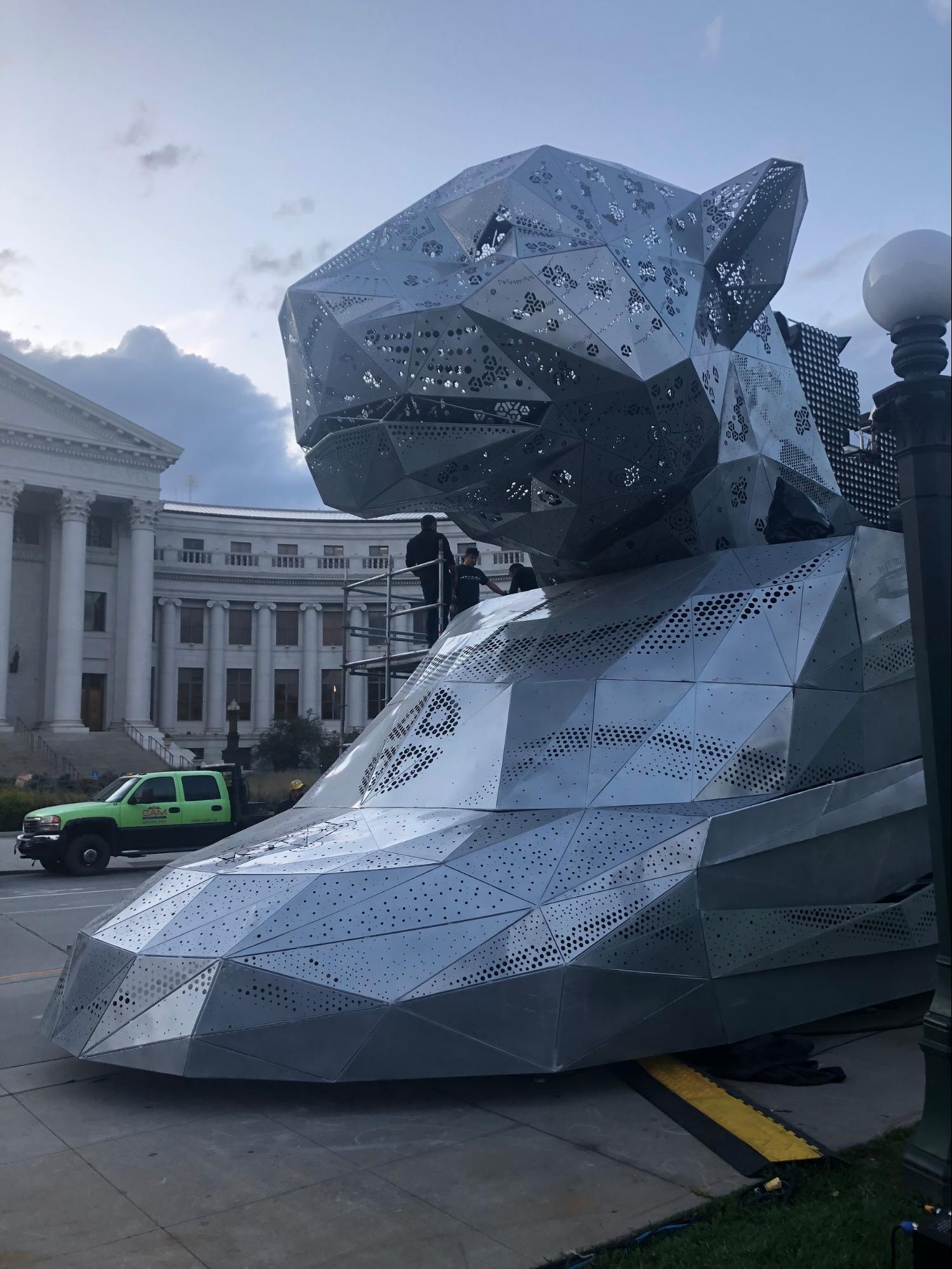 Jaguara Installation in Civic Center Park. Photo by Lori Goldstein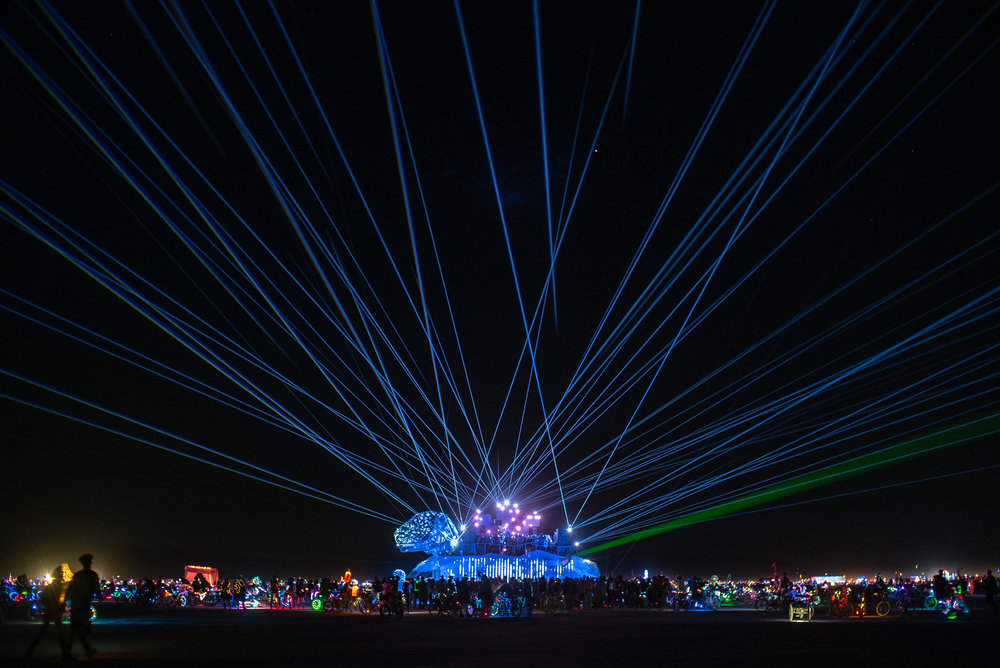 JAGUARA DE LEJOS NIGHT. Photo from Jaguara website (https://jaguara.co/artcar)
While the artwork was originally built as a traveling installation for Burning Man in 2018, Jaguara was made to tour, stimulate, and sustain dialogue across many diverse communities. According to Jaguara's website, the artists intended to "build bridges across our continent and the world—to learn, share visions, and creatively work together—to become active citizens of a world where we can live harmoniously with our environment and with each other." Jaguara's scale and whimsical appeal to audiences of all ages and backgrounds have been extremely successful, as exemplified through the artwork's popularity in Denver news and social media. Yet this project's approach to public art as a means to bring environmental issues to the forefront of mainstream culture is also significant.
Placed purposefully front and center of the Denver City and County Building, the artwork's symbolic location and the projection of its colorful images onto the facade of a government building help to further promote the significance of the underlying message. Unlike more traditional, monumental installations, Jaguara's presence as a temporary installation helps solidify the symbolic urgency of its intent. One might also argue that Jaguara's ephemeral presence is what attracts larger audiences to it, whereas permanent art installations often struggle to initiate sustained public engagement.
The Significance of New Approaches to Temporary Public Art Experiences
Recently, the public art field has witnessed a significant rise in temporary public art events and exhibitions across communities throughout the world. Citywide festivals and experiences have become platforms to feature artwork that responds to specific themes, global phenomena, and experiences that are not particularly suited—or perhaps were never meant for— permanent installation. This form of public art occupies a public stage to bring art to the forefront of civic culture. Because temporary installations often include a performative aspect, these experiences are wonderful tools for attracting residents and visitors to your community (and give local arts organizations an opportunity to create some brand awareness). Opportunities for such experiences can bring community members that do not generally interact with public art to, quite literally, the front row.
Temporary public art is particularly suited for a process of experimentation as a means to test the waters of public sentiment toward a particular art form, theme, or experience. It can also be a welcome change to the more traditional public art decision-making process, which largely revolves around permanent works. Committees involved in bringing temporary experiences to particular communities can approach these time-based events as a means to reflect contemporary events and sentiments. Unlike permanently sited public art, in which committees are tasked with making decisions for contemporary society as well as future generations (think about the ongoing controversy with Confederate monuments and public artworks that now require massive dollars for conservation that were not originally included in their budgets), temporary public art experiences are particularly suited for the "here" and "now." While these ephemeral experiences are not new to the field, the rise in the volume and success of these endeavors has become significant as more programs and artists seek to bring these experiences to communities around the world. Temporary installations can provide meaningful experiences for their audiences, as Jaguara did here in Denver. They also necessitate new approaches to planning, advocacy, funding, marketing and inter-disciplinary collaboration. As a result, many cities are creatively tackling this popular approach to public art.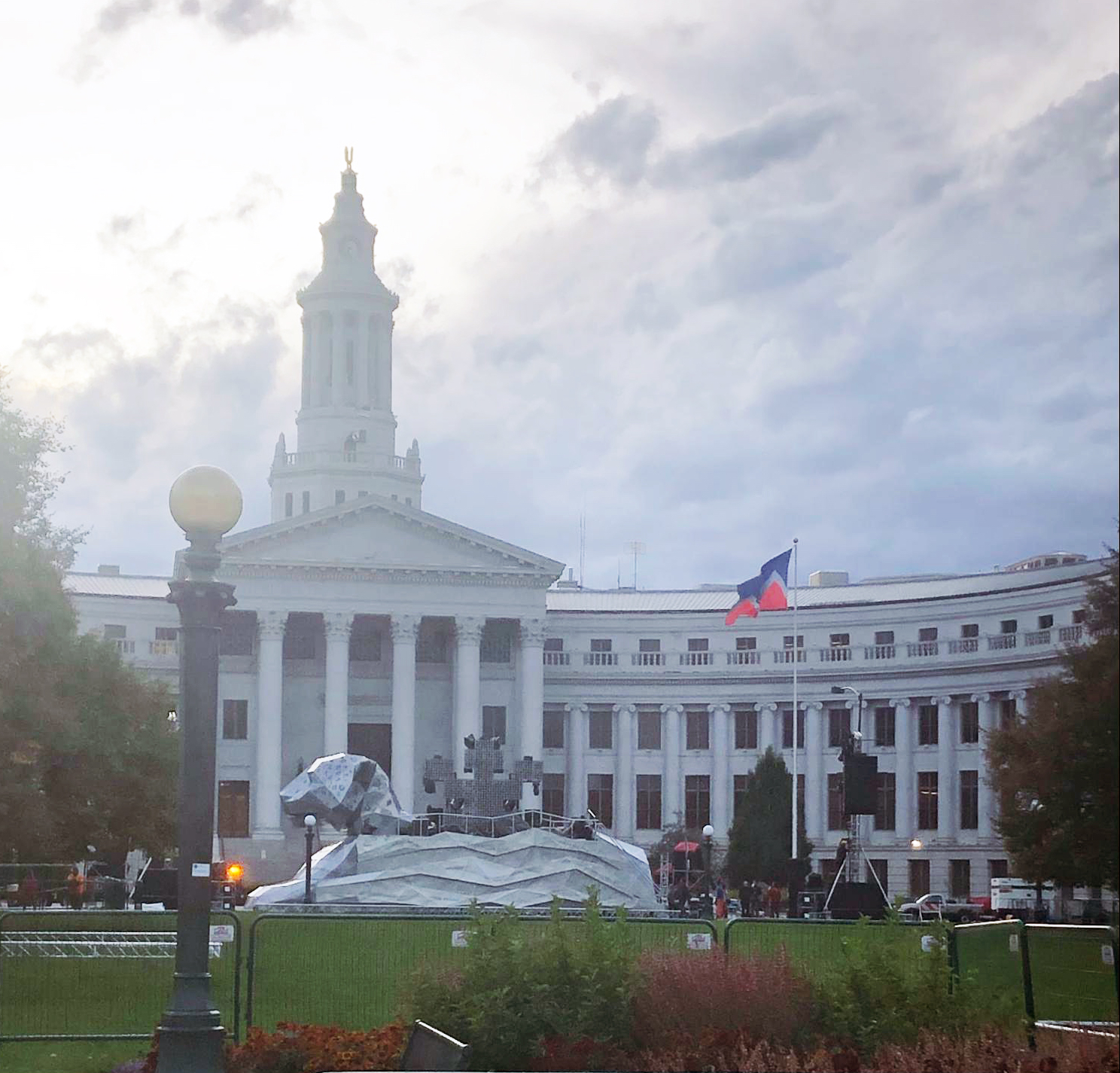 Jaguara Installation in Civic Center Park
How CaFÉ Can Help You with Temporary Public Art
When planning a temporary installation, be it an ephemeral installation or an art-on-loan program, the CaFÉ system is used by organizations to collect and manage applications. CaFÉ has a thriving network of public art organizations and artists. Whether you are an administrator looking to host a temporary public art call or an artist who seeks to apply to this type of call, look to us for inspiration!
Are you an artist looking for temporary public art installation opportunities? Check out these calls on CaFÉ!
While the art may only be on display temporarily, don't forget to Archive it!